Plastic Floor GripTil - Color - Mix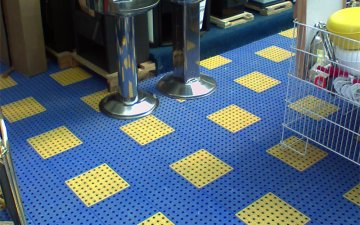 The GripTil flooring system is a versatile plastic floor which, thanks to its high utility properties, is one of the modern modular floor systems with a wide application in the business and private sector. The wide range of applications is supported by the modular design of the system, quick and easy assembly and disassembly, the color range of modules and the material used. The system is very variable and can be installed almost anywhere. It can be used wherever an aesthetic surface with good utility properties at a reasonable price needed. At the same time, it can be used in areas where the installation of the floor is limited in time. The installed floor can be easily dismantled without tools and located in another place. Installation is very easy, it takes approximately 2 minutes to install a square meter, and it is just as easy to remove.
Sale
Good Deal
Quick info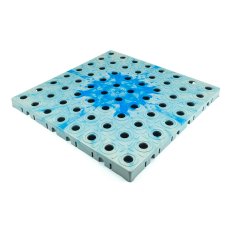 The Base Plate 250x250x16mm is an elementary piece of the GripTil plastic flooring system. Product color is a mixture of more colors, each…
Sale
Good Deal
Quick info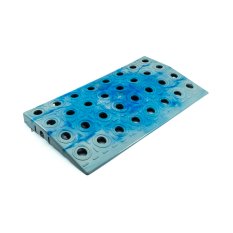 The Ramp Straight 250x137x16mm serves for finishing the floor area on the sides. The Ramp ensures safe and smooth entry to the surface.…
Sale
Good Deal
Quick info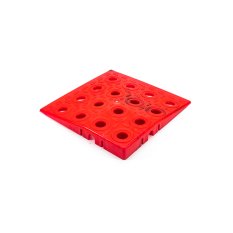 The Ramp Corner 137x137x16mm is a complementary element for finishing the floor area at the corners. The Corner ensures safe and smooth…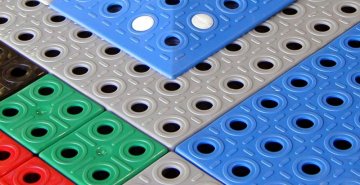 Installation of the GripTil system is easy and can be done without any special tools. Individual segments are connected each to the other by plastic connectors, which are inserted from the underside. It is not necessary to put the connectors into all prepared holes. However, if the floor is extremely strained, connectors are applied to all slots. Connectors are included in the price of the segments.
---
* Highlighted fields are required
Survey
Jak jste na nás narazili?
Voted: 69
---