Wheelchair access to the bathroom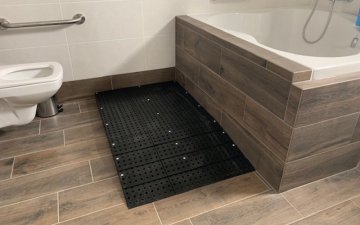 The GripTil flooring system elements can be used excellently to make life easier for people with disabilities. By combining the base plates, ramps and corners it is possible to create barrier-free accesses, ramps, threshold crossings, etc. The picture shows an example of a solution where the bathtub rim was too high for entry from the wheelchair. From the plastic floor elements, an elevated surface was created with a sufficiently long ramp and a slight slope for the wheelchair entry.
The color of the ramp can be customized to match the bathroom interior. It is a quick and simple solution and thanks to the low weight of the plastic material such a ramp can be used on the road.