Shower floor in the SBA Sports Club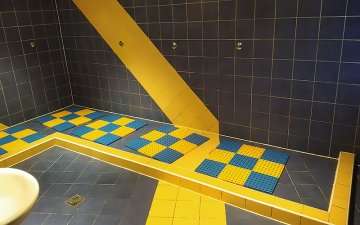 The SBA Squash Center decided to equip the showers with plastic mats. There are installed several separate mats for individual showerheads. In addition to the practical function, we managed to harmonize color with the interior and create a practical and aesthetic solution.
GripTil plastic mats will not only apply their aesthetic, anti-slip and safety properties but mainly ensure water drainage below their surface so that users do not need to stand in polluted water when showering.
When leaving the shower, visitors enter from the wet part to the dry part in the dressing room. The plastic flooring zone ensures that people do not carry water from their feet more than a meter or two, the water drips under the floor and does not spread to the dressing room. The day-to-day continuous cleaning of the shower floor is also kept to a minimum. At the end of the operation, the individual mats are lifted and can be sprayed with water.