Plastic mobile ramp to the warehouse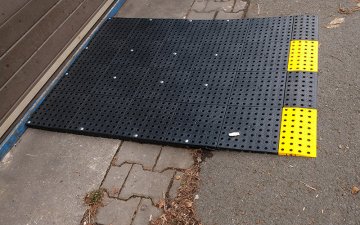 One of the ways how to use all elements of the GripTil flooring system is the construction of various ramps. These are situations where the inner floor is separated from the outside by a step that is difficult to pass with the handling equipment. The photo shows an example of a mobile plastic ramp in front of a warehouse. Creating a plastic removable access ramp is a quick and simple solution.
In addition to base plates, straight and corner ramps are also used for this application. The floor segments can be stacked on top of each other so that a smooth ramp of the required height and length is simply created. The ramp edges can be marked with a color combination of segments to increase safety.