Plastic mat at the entrance of the Libros store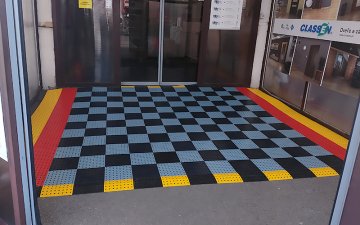 The Libros company presents the GripTil plastic flooring system in the entrance part of the store. The original floor surface of the shop entrance was in poor condition and the installation of a plastic mat was not only a quick solution but also improved the appearance of the entrance. The combination of colors corresponds to the company's colors.
The new flooring system was also able to eliminate damage and unevenness of the original surface so that no construction work was necessary before installation. Both inlet edges are lined with yellow-black markings for increased safety.