Plastic giant chess on offer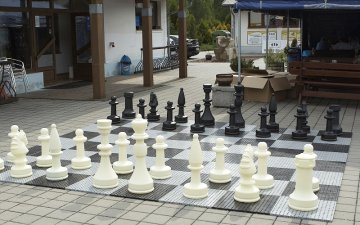 The plastic giant chess set was added to the offer. Our GripTil plastic flooring is an ideal surface for creating a chessboard. Now you can buy a complete set of figures including a plastic chessboard. Due to the size of the figures and the playing area, chess is designed for outdoor play, especially where viewers watch the game or participate in a group of players. At the same time, this set can create a nice decoration.
The chess pieces are made of polyethylene in white and black. The king's height is 80cm. The playing area 4 x 4 m is made up of Tile plastic floor squares 50 x 50 cm of size. The color combination of the chessboard can be chosen as required. The chessboard surface is non-slip and soft, thanks to the holes it is permanently clean and can be used immediately after the rain because the water flows under the surface and does not create puddles. Material of figures and chessboard is maintenance-free and weather-resistant polyethylene.