Plastic floor in the cargo compartment of the van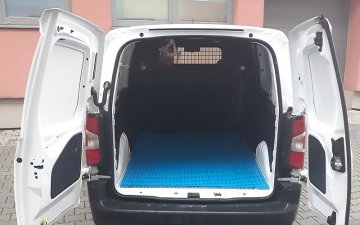 MS Auto equipped the cargo space of their van with a plastic mat. The use of plastic flooring as a cover of loading areas and cargo spaces in cars provides several advantages. In this way of application, the plastic covering protects against damage not only to the cargo but also to the car floor, which suffers greatly.
In addition to its protective properties, it also reduces dust and noise in the cargo compartment. If liquid leaks, it is drained beneath the surface of a 16 mm high floor and the cargo is protected from possible contact with liquids. In older cars, installing a plastic surface will also greatly improve the appearance.
The floor can be precisely trimmed according to the shape of the space, and ramps are applied at the loading and unloading points. Thanks to the modular system, only a damaged segment can be replaced in the event of damage. The connectors are not a part of the modules so it can be simply replaced.