Outdoor plastic floor for swimming pool in Karvina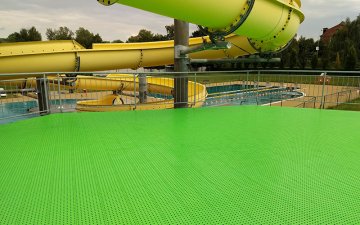 The swimming pool outdoor areas around the water slide and the sunbathing terrace in Karviná have a new plastic surface. Installation is made of green plastic floor GripTil. The original area of the terrace was covered with rubber foil, so no preliminary work was necessary and the plastic floor was laid directly on the ground. Placing the floor around the water slide and on the terrace brings several improvements.
The non-slip surface prevents slips and falls that are quite common in these areas. If such an event occurs, falling onto the plastic floor will not cause harm or injury. The perforated surface and the channel system ensure that water flows under the surface so that people do not have to move in puddles of water. The flexible plastic surface, unlike the tiles, is pleasant for walking, sitting and lying. Due to its thermal properties, it is also suitable for the visitor's feelings, it is not cold like tiles or concrete, and it is not hot on warm days.