Modern and practical floor to the balcony or terrace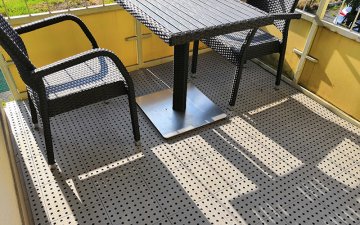 When GripTil plastic tiles are applied, dust and dirt fall through the perforated floor so the surface is clean throughout the day. The system thus reduces dustiness while improving temperature and noise protection. By having holes on the surface, the system ventilates very well. As the floor is airy, in summer days the surface is not uncomfortably hot and the terrace does not overheat unnecessarily. It is possible to enter the surface safely immediately after the rain, the floor has a non-slip surface and the water flows under the surface so that no puddles occur. The flexible plastic floor also protects objects and people when falling. For example, if the glass is broken, it is sufficient to collect larger shards and sweep the surface, small pieces fall under the floor and there is no risk of cutting. Once in awhile the floor can be vacuumed and dirt is pulled up through the holes in the floor.
In the case of application on older surfaces, it is possible to significantly modernize or revitalize the balcony area by using plastic floor in minimal time and without demanding construction work. Damaged old tiles don´t need to be demolished and replaced, plastic floor to be laid on the existing surface. This solution has several advantageous aspects, where the most important is a significantly lower price compared to replacing the tiles with a new one. At the same time, the repair is significantly shorter and construction work is eliminated, so there is no user restriction, and there is also no construction waste.
The material of the floor is resistant to thermal influences, so the floor stays in place all year round. In case of damage the repair is quick and cheap, just replace one damaged piece without having to dismantle the floor. If necessary, the floor can be easily disassembled and reinstalled elsewhere.