GripTil floor under the garden pool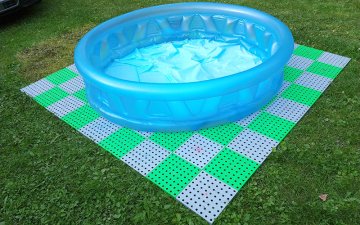 The plastic floor GripTil is a practical addition for installing an inflatable or folding pool in the garden. The lawn is partially protected and thanks to the holes in the floor under the pool, it does not rot. The floor around the pool does not slip when entering or exiting, it is pleasant for walking as well as sitting or lying down, so if the mat is made bigger, it also forms a sitting area around the pool. The edge created in this way also reduces the clogging of dirt from the lawn into the pool and also reduces the formation of mud in places where the wet lawn is stepped more. The color range of floor elements allows the mat under the pool to adapt to the color of the pool. With the help of leading edges and corners, it is possible to create a safe edge around the base.

After folding or blowing out the pool, the floor is simply divided into smaller segments and stored for the winter together with the pool. Handling is very simple due to the low weight of plastic floor elements, assembly and disassembly is fast and does not require any special tools.